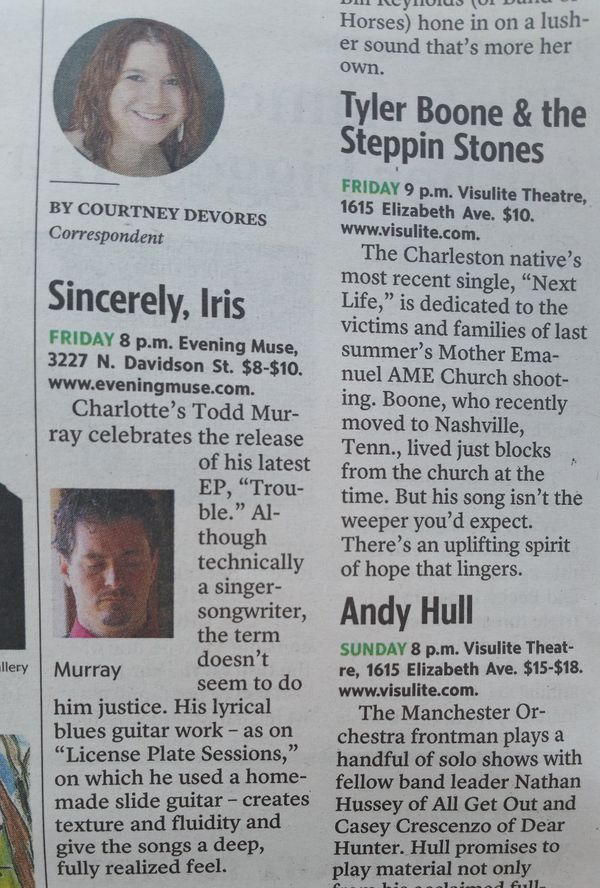 MDORadio.com
  From the opening note of the first song "Trouble" to the last note of the haunting "Sweet Bonnie", Sincerely Iris has managed to, once again, pull us into the vortex swirling around his exceptional singing and songwriting skills. 
  His newest EP release, aptly titled "Trouble", is a feast for the ears and those parts of your brain that release endorphins that make your body settle into a stress free state. His voice has a quality that washes over you like soft ocean waves on a sultry moonlit night, and his skillfull guitar playing is a perfect vehicle for him. 
  Had a bad day? Slip this CD into the player, lower the lights, grab a glass of something pleasant and let Sincerely Iris and Trouble transport you to a better place. You'll thank me later. ✯✯✯✯✯ 
She Diablo ~ MDORadio.com
Roypeak.com
"Not as dark as his previous album, the bluesy License Plate Sessions, Todd Murray--in his musical guise as Sincerely, Iris--has crafted an album that is more open-ended, more like a trip across America's wild back roads in an open car. Murray's songs are short stories, vignettes and slice of life moments channeled into musical vistas. He wisely keeps the instrumentation spare and purposeful--such as the piano on the title track, which really adds to the mood, adding playful suspense around the guitar and vocals. "1000 Years" is expansive as it is moody. "Sweet Bonnie" is a heartfelt love song, made both darker and sweeter once you discern the narrator's true identity. But my favorite tune here is "Thorns" with it's deep swampy slide and stinging, defiant lyrics. When Murray decides to go for the blues it comes off not cliche, but rather tried and true, that is, looking back without harping on it."
BLUMENTHAL PERFORMING ARTS BLOG  
Brandon J. Carter 
PostSecret: The Show premieres in Booth Playhouse Tuesday, April 22. The production features the real life, compelling secrets and stories mailed in anonymously and posted to the record-breaking blog PostSecret.com. Three actors, with the help of musician Todd Murray, will bring those secrets to life on stage. 
Todd Murray, aka Sincerely, Iris. 
Todd Murray — who performs under the stage name Sincerely, Iris — is a singer-songwriter from Savannah, Ga., and has been an avid PostSecret fan for years. He and his guitar will accompany the three actors on stage as they present the heart-wrenching and laugh-out-loud funny secrets found on PostSecret.com over the years. 
Murray describes his sound as "road trip music" and says, "It's a style that's always changing, and always moving along. Whether it be gypsy-esque or like Kerouac's beat up old truck, shaking down the road at midnight, it is at once comforting, and somewhat unknown." 
You can hear his unique sound in the live performance clip below, which features Murray playing his original song "Just Like a Dog" with his license plate guitar. Watch to see what I mean! 
https://www.youtube.com/watch?v=GRs5ne-XLao 
Don't miss Murray live in PostSecret: The Show, playing Booth Playhouse Apr. 22-May 4. Great seats are still available! Click HEREfor tickets. 
Also available are $15 student tickets! Click here for details. 
Head over to SincerelyIris.com to learn more about Murray and hear more of his music.
Connect Savannah 
I've always been obsessed with people who were just married to their instrument and their art form," Todd Murray says, "like Jeff Buckley, Bill Evans, Rufus Wainwright, Joni Mitchell, Bob Dylan. They didn't always need a band to do what they did." 
Murray — you know him by his stage name Sincerely, Iris — is explaining why, despite a youthful infatuation with guitar greats like Jimmy Page, and the desire to be part of a rock 'n' roll band, he writes, plays and sings all by his lonesome. 
"I always saw myself in a band in the beginning," he adds. "But I had trouble with people committing. I guess I had no other choice." 
A Midwesterner who moved to Savannah in 2010, Murray has become a familiar figure on the local acoustic scene. This week, he's releasing his third full-length album, Best Left Free, produced by Brenden Robertson of Love Music and Live Wire Sounds. 
It's a bold, compelling set of original tunes, full of glorious lyrical twists and melodic turns. Sincerely, Iris remains Savannah's most idiosyncratic (and enjoyable) acoustic artist. 
"Honestly, I think this is probably the most personal album that I've done," Murray says. "There's a couple of songs that are just made-up stories, like the one about falling in love with a girl at church. 
"My girlfriend's father passed away last November, and a couple of the songs reflect on that." 
The title tune is a rumination on the nature of love and freedom, featuring Murray's chiming guitars and hypnotic Celtic-style fiddle work from Ricardo Ochoa. 
Other Savannah guests on Best Left Free include James Lee Smith (guitar), Eric Dunn (bass), Adam Garner (drums) and pianist Kevin Wallace. 
All that stuff's used sparingly; the record's core is Murray's voice and guitar. 
"Savannah's been very generous to me," Murray says. "The first place I could make a living off of music. I'm pretty sure the whole time I was in Chicago I did not get paid for a gig, ever. 
"So it was nice to come to a place that appreciates music a little bit. I went to jazz school for two years, and I guess I just never practiced enough. And I had trouble improvising. 
"So it's been really cool to come here and have a lot of good jazz players ask me if they could be on my record. They actually like my music." 
Physical CDs are forthcoming, and in the meantime Best Left Free is available at atwww.sincerelyiris.bandcamp.com.